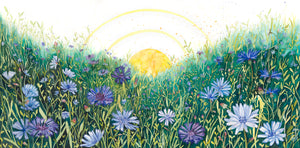 Cornflowers & Chicory
Regular price
Sale price
$42.00
---
{Please Allow 2-5 Business Days Before Orders Ship}
~
(This painting was a

 

Prophetic Commission

 

that I painted for a client. I've included a sample of the description below)
"Broken down in the cornflower & chicory patch, looking beyond to the horizon.
A quiet undisturbed place/season, to rest, to rebuild, to find your grassroots & to look to the future. An opening is coming, breakthrough is coming, hope is on the horizon."
To be broken down means: to be worn out and not functioning properly as a result of excessive strain.
Cornflowers are a brilliant blue flower and represent hope for the future, while Chicory, a similarly blue flowered plant that comes from the same flower family, is a symbol of perseverance and endless waiting due to its being one of the few wildflower plants that persist even in the cold winters. During my research I also found that Chicory is used as a reminder of the importance of self-care and self-love, particularly in situations where we may have "lost ourselves" taking care of others.
Both are common ditch plants that thrive in the same environment: Open, sunny fields full of uncultivated soil.
The season you've found yourself in is meant to restore and refresh you from the previous strain you've endured. It is a season of self love and self care, and of looking to the future with hope. To be in an uncultivated place where you remain undisturbed is part of the design to help you rest, rebuild and look to the future, beyond where you are currently. Another word for grassroots is the bedrock or foundation of something. This time has been & is for getting back to the basics, the bedrock, & the foundation.
The horizon is blank because you are writing your own story.
The yellow sphere in the middle of the painting is to represent what is going to open up before you, and a yellow rainbow as a reminder of the joyful promises He has given you.